IN PERSON SERVICES:
Seating will be first come, first serve (no reservations),
so come early to help us find you a seat!
Kids classes (nursery - 5th grade) are available during both services on Sunday.
JOIN FROM HOME:
All services will be live-streamed on these channels:
Our website • YouTube • Roku
Services: SATURDAY: 5PM • 7PM // SUNDAY: 9AM • 11AM
As we continue to navigate the complexities of this current season, here's what to expect for Easter weekend.
We can't wait to celebrate together!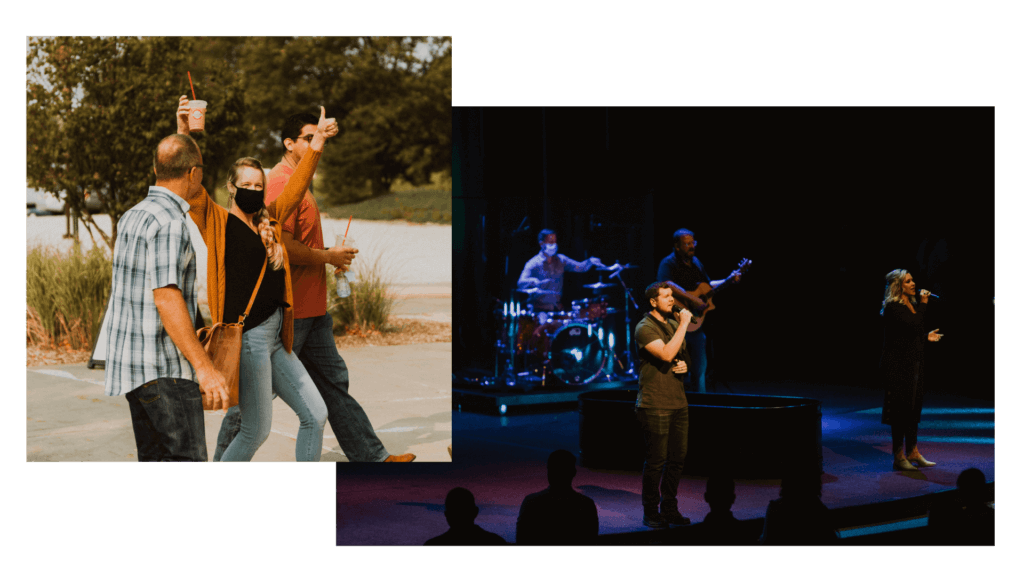 ---
We recommend the continued use of masks if you are physically able, when entering and exiting the building and auditorium. (If you are in a designated mask section, please wear a mask throughout the service.) 
---
We've designated four sections in every service as mask required sections. If you choose to sit there, we ask that you wear a mask for the duration of the service. You'll find these sections in the four corners of the auditorium (Sections 1, 5, 6 and 11). In these sections, every row will be available.
If you want to wear a mask throughout the service you are welcome to sit anywhere in the auditorium, these sections just allow us to make more seating available and also provide a designated space for people who would like to sit around others also wearing masks.
---
We expect that there will be more seating availability at our Saturday night services, we'd love to see you there!
---
Overflow seating will be available in the Chapel for each service.
---
If you're not able or ready to gather in-person yet, join us online! The livestream Easter services will be available at the same time as in-person services:
Saturday: 5:00pm • 7:00pm // Sunday: 9:00am • 11:00am
Join us using any device:
Easter Sunday, Kids classes will be available for: nursery, 2's, 3's, PreK, K-5th grades // 9:00am + 11:00am
At LBC Kids, all children (babies through 5th grade) experience safe, age-appropriate environments where the Bible is taught in a creative, engaging, and relevant way. We believe church should be fun – God loves to hear kids laugh.
Sundays, 9:00 & 11:00am
Nursery-Preschool: North Entry
Kindergarten-5th Grade: North Entry
Learn More: kids@lincolnberean.org
NOTE: Youth (Activate) will not be meeting Easter Sunday. We encourage students to attend the main service with family or friends. 
Before joining us in-person for Easter services, please consider:
Have you had a fever of 100.4 in the last 14 days?

Have you been exposed to someone who has had a positive COVID-19 test in the past 21 days?

Is there a medical reason why you should not be present?

If someone in my household begins showing symptoms of illness, we will stay at home and join in worship via the livestream services.
What We're Doing:
Staff and volunteers will be wearing masks.
Additional hand-sanitizing stations will be placed throughout the building.
All Lincoln Berean services will be a contactless experience, and high-volume areas will be thoroughly sanitized between services.
No water fountains will be open or usable.
No offering bags will be passed. Instead, there will be giving boxes at each entrance for those that want to give.
How You Can Help:
If you don't feel well or have health concerns, please stay home and join us online.
We recommend the continued use of masks if you are physically able, when entering and exiting the building and auditorium. (If you are in a designated mask section, please wear a mask throughout the service.)
Please wash your hands and use hand sanitizer often.
Maintain six feet of distance between household units.
We're committed to creating an environment that meets Nebraska's Directive Health Measures (DHM) recommendations for safety.
Our services are designed to create an environment that allows for physical distancing.

Friday, April 2 // 7:00AM-7:00PM // LBC Chapel 
Come as your schedule permits to worship, reflect and take communion. We hope the time you spend here will be a meaningful reflection on the death of Jesus and will better prepare you for your celebration of Easter.
---
There is no order of service. This is your time to use in whatever ways you find meaningful–prayer, scripture reading, sitting silently, journaling, drawing, etc. We will have a booklet available for reading & reflection.